Need your track or tracks mastered fast without sacrificing the quality? Give Music Guy Mastering's 24 hour mastering services a shot!
Music Guy Mastering offers full professional masters in less than 24 hours, guaranteed.
Right now 24 hour mastering services are discounted at just $50 per track with a 24 hour guaranteed return time!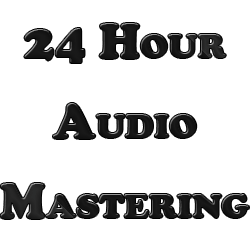 Simply upload your song via the form below and you will be taken to a custom Paypal invoice where you can pay via the Credit/Debit card of your choice.
If you have multiple songs, select the quantity and upload your songs in a compressed folder using WeTransfer. Then paste the download link in the "Download Link" section. Once you receive the masters back, you can request unlimited edits.