Interested in releasing your music on CD? Music Guy Mastering offers DDP creation services to create the exact file(s) you need to send to the CD replication plant of your choice to make sure it comes out perfectly.
Refer to my Mastering Rates page for my latest special rate on DDP creation.
Simply specify at some point when communicating with me that you'd like a DDP and I'll send you a simple CSV format template for you to fill out.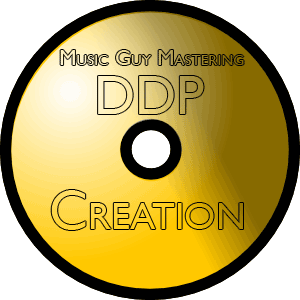 This includes basic track/credit information which you want to be written to the CD when replicated.
Every Music Guy Mastering DDP comes with the option/ability for you the client to review or even burn a test copy of the mastered CD so that you can experience it yourself before sending it off to the CD replication plant to be copied en masse.
For more information on DDP creation or to view the DDP information template, see my complete article on what is a DDP.