I've gotten a lot of questions over the last couple of years in particular regarding Ditto vs Distrokid for releasing your own music. This is a topic I feel especially equipped to give advice on as I have personally used both for the last 10 years to release my own music. I've also used a handful of others, but these are the only two which I've stuck with and can recommend.
But what about pitting Ditto vs Distrokid? Which is better, and which do I recommend?
Ditto Vs Distrokid
If you're not familiar with Ditto Music or Distrokid, they're simply what you use to release your music en masse to all of the relevant music stores and streaming services like Spotify, Apple Music, etc.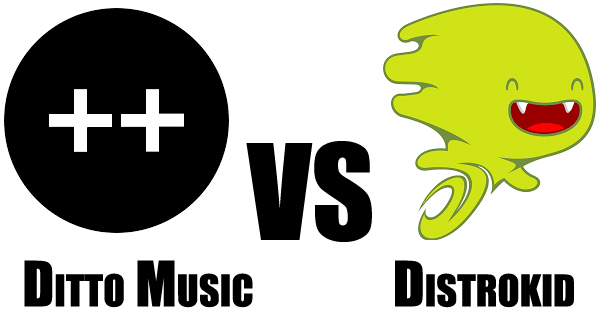 If you're making music in the 21st century, you absolutely need your music to be as accessible as possible, and these services ensure that's the case.
But which is better? Let's break them down by the important categories and compare them accordingly in each.
Pricing
Let's begin with an important one: price. How much will it cost to get your music everywhere?
DIY musicians typically don't have a huge budget to work with. Thankfully, both Ditto Music and Distrokid are quite affordable, particularly if you only want to release music under one artist name. They also both offer multiple pricing tiers, depending on how many unique artist names you want to release music under.
Note that Ditto Music is based in the UK and that their prices are listed in British Pounds. Also note that these prices reflect what has historically been their pricing for each tier, consult each service's website for the most up to date pricing.
Ditto Music Pricing:
Artist Plan (1 Artist), £19/year
Professional Plan (2 Artists), £29/year
Label Plan (5 Artists), £69/year
Distrokid Pricing:
Musician: 1 band/artist, $19.99/year
Musician Plus: 2 bands/artists, $35.99/year
Ultimate 5: 5 bands/artists, $79.99/year
Distrokid has additional tiers mostly for labels for releasing music for 10, 20, 50, and 100 artists with greater discounts for the highest tiers.
For 99% of the people who use these services, the first three tiers will work just fine. Still, I appreciate that Distrokid has tiers for artists or more likely labels looking to releasing music for potentially 10 or more artist names.
Taking conversion rates into account, Distro's 1 artist plan is slightly cheaper than Ditto's, and Ditto's 2 artist plan is slightly cheaper than Distro's.
I'm not going to lie, something which pisses me off about Distrokid is the amount of premium add-ons they try to sell you on as the final step in uploading your music to them. For positioning themselves as being super artist friendly, it's kind of annoying.
The one I want to underline is this:

Ditto does this for free, giving you an option when you check out:

It's not a huge deal, but if some new service comes along and overtakes Spotify and others as the most popular, you'll want your music there. Ditto gives you this option for free.
Here's proof of this as my Distrokid profile shows the disparity in the stores my music is published to between older and newer releases of mine: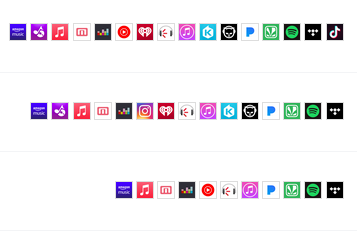 What Distrokid doesn't tell you is that you can just take down an older release, then re-upload it to get it in all of the latest stores at that time. You shouldn't have to do this, though, and you shouldn't have to pay to get your music added to new stores which Distrokid takes on.
As my old boss told me when I used to sell overpriced merch at concerts for the biggest artists in the game: it's just greed.
While the pricing tiers are virtually neck and neck, I'll give the nod to Ditto for not charging you for something that should be included, anyway.
Winner: Ditto
Interface/Ease of Use
Ditto Music and Distrokid's interfaces are pretty different when it comes to uploading your music.
Ditto's interface is much cleaner and more attractive, taking place over 4 different relatively straightforward screens. Here's a sample:
Distrokid, on the other hand, has you do EVERYTHING on one long page with lots of information in small fonts. It kind of feels like doing your taxes, I'm not going to lie. It's also kind of annoying that if you change anything regarding the main artist information in Distrokid, it undoes ALL of your progress on that release. I've probably yelled at my monitor once or twice because of this.
With a much cleaner and simpler interface, I'll give the nod to Ditto.
Winner: Ditto
Options
Something which I really appreciate that Distrokid does is verify that they have the correct artist of your name when you go to upload a release: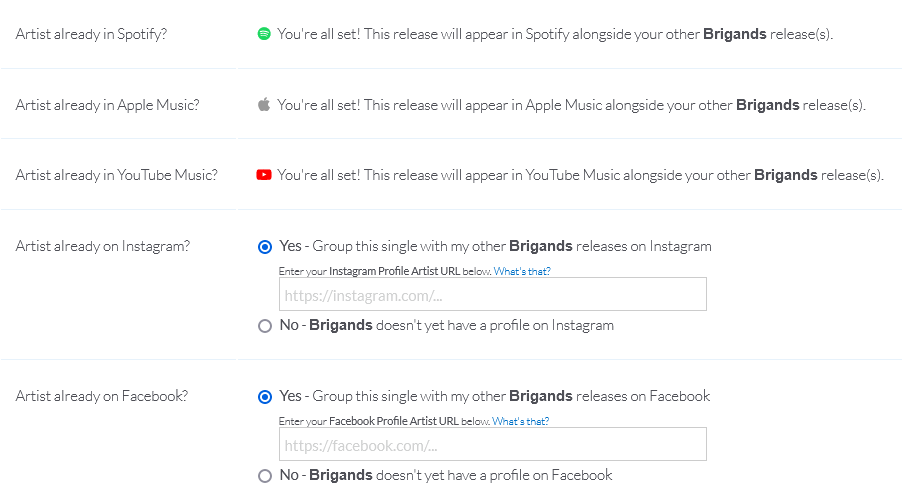 If they're not sure, they'll give you a profile URL for any stores they're not sure on. You click on it and confirm that it's indeed your profile or not.
This ensures both that your music isn't mistakenly released alongside another artist with your same name, but it ensures that it doesn't create a separate profile for your artist name. You've probably seen an artist on Spotify or another store where all of their music doesn't appear under one profile. You can still maybe find the other song you want, but it's appearing on a separate profile for the same artist. It's a mess.
Distrokid helps to mitigate the likelihood of this issue by verifying in advance. Ditto does not do this to my knowledge, at least not during the uploading process. They might email you to verify if there's an issue during their check, but that comes with its own headaches (something I'll talk about in a moment).
Winner: Distrokid
Number of Stores
At the time of this Ditto vs Distrokid comparison, by my count Ditto publishes your music to roughly 60 services whereas Distrokid does it to roughly 30. That comes with a caveat as Distro mentions MediaNet which publishes to its own list of services of its own.
Ditto Music Stores (Sample):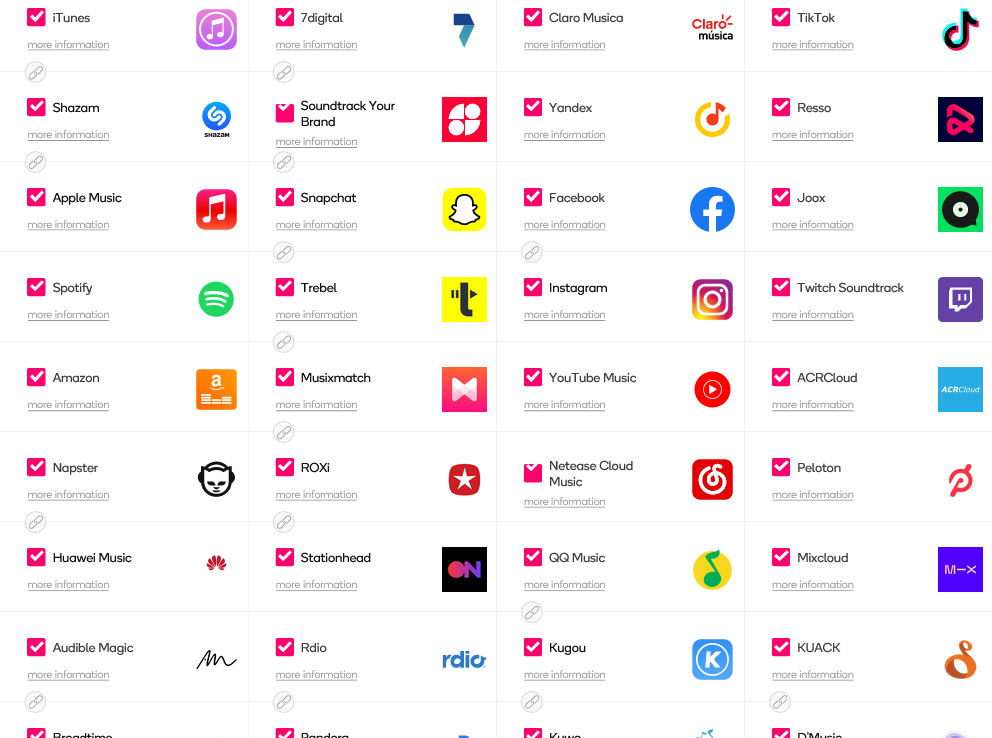 Distrokid Stores:

It doesn't matter, honestly. Both services publish to the handful of major options that +95% of people use (Spotify, Apple, iTunes, YouTube, Amazon, Tidal, Deezer, etc.), and that's all that matters to me.
Winner: Tie
Release Speed
This is a BIG area where Distrokid comes out ahead.
Ditto Music requires you to schedule your release AT LEAST 10 days in advance: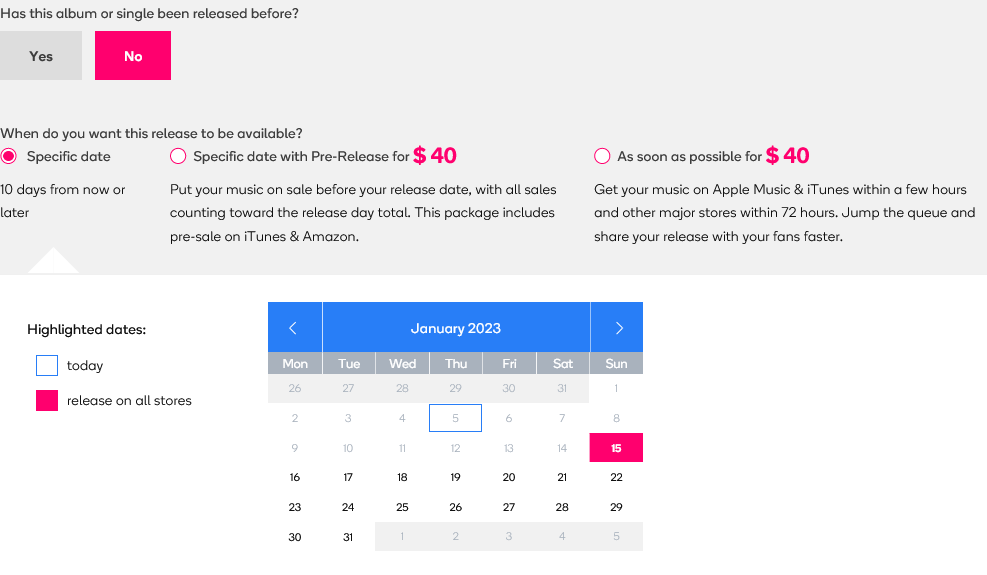 You can pay a ridiculous fee of $40 (wait, what the heck happened to British Pounds… I guess it's because I'm signed into my account and they know I'm American?) for the features shown.
As an aside, I just don't understand Ditto or Distrokid with their pricing on these bonuses. For roughly $20 I can release all the music I want in a year. That's a great deal and that's why we're here. What makes you think people are going to shell out significantly more money for premium features like this?
Tangent over.
With Distrokid, you can tell it to release ASAP. According to their release schedule, this means your music will appear in the following stores accordingly: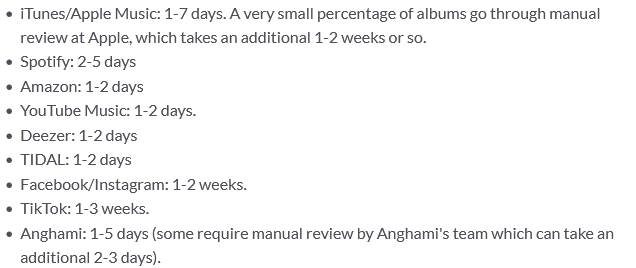 I've had my music appear in Spotify within a day despite what it says. In terms of release promptness, Distrokid cannot be beat. This is especially great if you spontaneously come up with a great new tune, record it within hours, and want to get it out immediately.
You'll be sitting around for at least 10 days with Ditto. I say AT LEAST for a good reason which I'll talk about next.
Winner: Distrokid
Red Flag Triggers
This is one which drives me nuts, and it's one which most people who compare Ditto vs Distrokid don't cover.
Allow me to vent one last time, though hopefully in doing so I can save you from the same frustration.
On more than one occasion I've had my release flagged by Ditto Music for the STUPIDEST of reasons. I'll just go bullet by bullet to cover what each issue was via emails I received from them well after submitting and how I had to resolve them:
One or more audio files on your release contain prolonged silence (more than 5 seconds) which is prohibited by digital music platforms. – I had to gut my hidden track. I suppose Spotify (and others) has cracked down on this in more recent years and it's only come up with albums which I've submitted via Ditto , but I never had a problem with this when I released with Distrokid. Gah, moving on.
Artwork missing or corrupt. – Yeah, my artwork uploaded just fine during the music upload process and I received no heads up that there was a problem at the time. A few days later I'm told I need to reupload the artwork. I uploaded the exact same file, that time it was fine… yeah.
Titles must not contain generic wording – e.g. Track 1, Future type beat, dance mix 2, acoustic backing track, etc. – This one was especially frustrating because their support told me to fix the wrong thing at first. I thought it was an issue with the album title, but it turned out to be that I included (2016) in the song title and was ultimately forced to change it to "Twenty Sixteen". I call BS on this, as you see numbers and years in titles constantly.
Kindly include "Deluxe Edition" on the artwork. – This was maddening because again, I've seen countless albums on Spotify and in other stores have "Deluxe Edition" in their title without it saying it on the artwork. I had to add "Deluxe Addition" on the artwork, which is so lame, before they finally accepted it.
All of these problems were frustrating enough on their own.
To make them ESPECIALLY frustrating, every time one of these red flags is triggered, you need to edit your release and resubmit it, which means that the 10 day delay is reset.
So depending on how long Ditto takes to tell you there's an issue and for you to see the email, you're pushing your release back by days or even weeks.
My god.
I can't recall of a time where I had a similar issue regarding a release with Distrokid, honestly.
Winner: Distrokid
Ditto Vs Distrokid – The Results
As you probably gathered if you read all of this, there is no perfect distribution service. That said…
The Overall Winner: Distrokid
Distrokid's interface could be a bit better, I'm not a fan of all the upselling they do whenever you put together a new release, and the fact that they don't add your music to new services by default is annoying.
All that said, their ability to get your music into stores quickly and without nearly as many red flag triggers as you'll get with Ditto Music earns Distrokid my vote for the best music distribution service in the game.
Upload your music with Distrokid today!
Make sure your music is ready to be released by using our affordable professional song mastering services!